Turku, Finland, 20nd of April, 2021 - We are delighted to announce that Netflix – the world's leading streaming entertainment service – can now be embedded into the Hibox Smartroom offering.
We are bringing Netflix to all Smartroom customers by making it available in both our hospitality TV solution and in our multi-screen solution for healthcare, giving both hotels and healthcare providers the ability to let their customers use their personal Netflix subscriptions on hospitality TVs.
Additionally, we have deployed a new user interface to ensure an intuitive user experience in terms of the many services available in our TV system, as well as enjoying one's favorite shows and movies in the Netflix TV app.
"It is key for our customers to be able to offer their guests and patients a true "home away from home" experience, and we are very excited about this new development. By enabling the largest streaming service in the world on the Smartroom platform, our customers will finally be able to offer their guests exactly what they are asking for. Hibox is committed to developing new functionality and services in our Smartroom product, and this was a very important step forward for us" said Staffan Granholm, CEO at Hibox Systems.
Smartroom installations with Netflix have already been successfully deployed in hotels in the Nordics during the last months, and will continue to expand to our other geographical markets going forward.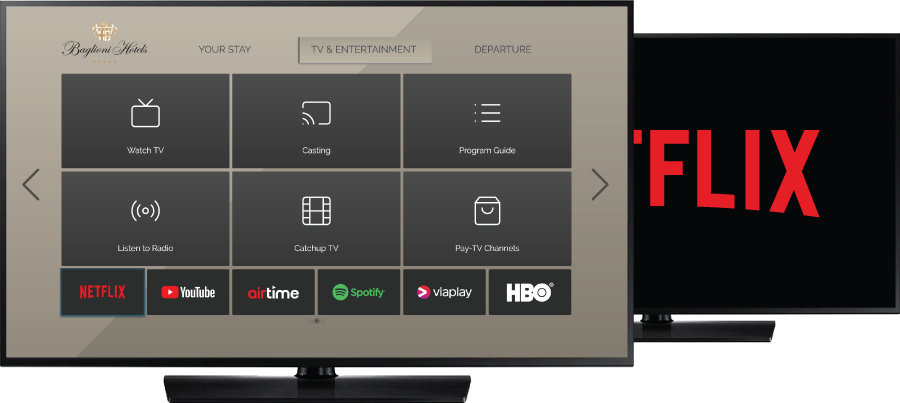 Netflix is available for both new and existing Smartroom installations
For existing customers, the Netflix app is already available with all PMS-integrated Hibox Smartroom installations running the Philips Mediasuite range of Hospitality TVs running Android P.
Installations running LG's latest Pro:Centric Smart Hospitality TV's or STBs will also see the addition of Netflix in the near future.
All new Smartroom customers can choose Netflix as part of their TV service package.
About Hibox Smartroom
Hibox Smartroom, a complete hospitality TV and multi-display system providing entertainment, information and communication services, has been part of our core product offering since we started in 2005, and today we serve over 10 million end-users all over the world on a yearly basis.
Smartroom has been deployed in different sectors such as hotels, healthcare and cruise ships. Regardless of the use case, we are dedicated to providing an outstanding end-user experience that drives customer satisfaction while reducing operational costs.
About Hibox Systems
Hibox Systems provides advanced interactive information, entertainment and communication solutions for business customers in the hospitality, healthcare and telecom industries. Our products are sold by a large network of affiliates and resellers around the world. Hibox is part of the Accedo Group, and our headquarters is located in Turku, Finland. Follow us on Twitter, LinkedIn, and YouTube.
Media contacts
Staffan Granholm, CEO
Hibox Systems Oy Ab
+358 50 5812968
staffan.granholm(at)hibox.fi