The Central Finland Health Care District wanted to modernize and centralize their healthcare services by building an entirely new, state-of-the-art hospital. This entailed the usage of contemporary technology solutions for modernizing the patient experience and improving staff workflows in order to provide a higher quality of care for patients.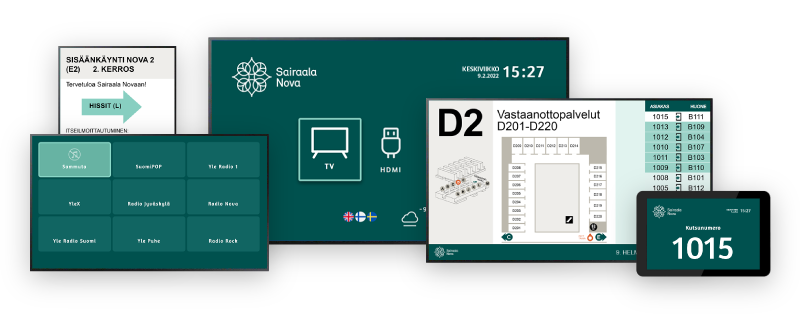 The customer
The Central Finland Health Care District's New Hospital for Future Medicine
The Central Finland Health Care District encompasses 21 municipalities in the county of Central Finland, providing healthcare services in nearly all medical specialties to the county's 275 000 inhabitants. The district is the largest non-university hospital district in Finland and employs some 3700 medical professionals.
The newly built Hospital Nova in Jyväskylä, Finland is the newest addition to the district's arsenal of healthcare facilities.
Nova functions as the central hospital in the county and is a state-of-the-art facility that aims to serve the needs of future medicine with new healthcare processes supported by modern ICT-solutions, both for serving patients and for improving the operational efficiency of hospital staff
The challenge
Improving the Patient Experience and Patient Care
Driven by a "patient first" principle, the district set out to build a complete healthcare solution that would create synergy between different healthcare functions and relieve pressure on staff in order to improve patient care and ultimately the overall patient experience.
This meant that the facility itself needed to incorporate an exceptional level of functionality through practical usage of space, new healthcare processes, modern ICT solutions and digital tools that would free up time for Hospital Nova's staff, allowing them to focus on patient care.
Among these requirements for functionality was a clear need for a patient guidance and display system that would help guide visitors and patients to the right locations while also serving dynamic information to these user groups. Displays were to function as the main contact point between patient and hospital.
The District also wanted to make sure that TV channels and data from other systems could be distributed within the facility with the ability to flexibly control the displayed content on all screens as one centralized system, as opposed to using a fragmented model with multiple systems.
The main requirements for the system were:
A comprehensive range of displays managed by a single system
Digital patient guidance from public areas to treatment rooms
Distribution of dynamic information to patients and staff
Flexible real-time control of displays and their content
Integrations with 3rd party systems
Distribution of TV channels to displays
The solution
The Smartroom Health Multiscreen Platform
Smartroom Health proved to facilitate all of Hospital Nova's requirements and was even able to introduce solutions beyond the District's initial expectations through integrations and centralization.
The multiscreen platform combines almost 1000 signage displays and patient TVs deployed throughout the facility into one single system, enabling functionality and features for both patients and staff.
Digital signage displays and patient TVs were deployed throughout the hospital including all wards, the Emergency Room (ER), Intensive Care Unit (ICU), lobbies, restaurants, pharmacy, patient rooms and staff areas. Centralized administration allows the hospital to quickly and easily manage content on all patient- and staff-facing displays, while integrations and automations save resources and optimize processes and daily operations.
Nearly all signage in the facility was done with digital signage displays ranging from 10" - 98" in size, a solution which allows for an unprecedented level of flexibility and dynamic use of the premises.
The signage displays are used for delivering a multitude of real-time information to patients and visitors ranging from general info, wayfinding, advertisements, news, alerts and messaging, public transportation schedules, cafeteria menus, live TV in waiting rooms, etc.
Already upon arrival, the displays work as the main contact point. The patient guidance system includes an integrated self-registration and queuing system that guides the patients all the way from the lobby to the waiting areas through visual and audio cues on the displays. The staff calls in patients to treatment rooms via 10" doorway displays.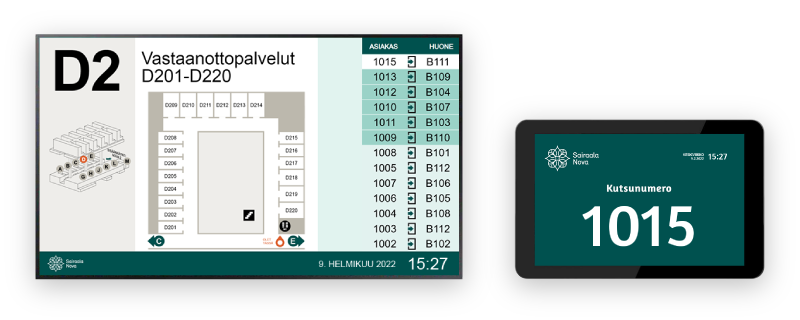 When leaving, patients are provided with relevant information such as local transportation schedules, exit wayfinding and contact information for a complete digital patient journey.
For hospitalized patients, the interactive patient TVs provide entertainment and comfort in patient rooms. The Intensive Care Unit (ICU) was supplied with 19" bedside terminals that provide TV and entertainment for individual bedridden patients, but more importantly, they enable staff to show information visually to patients in the ICU.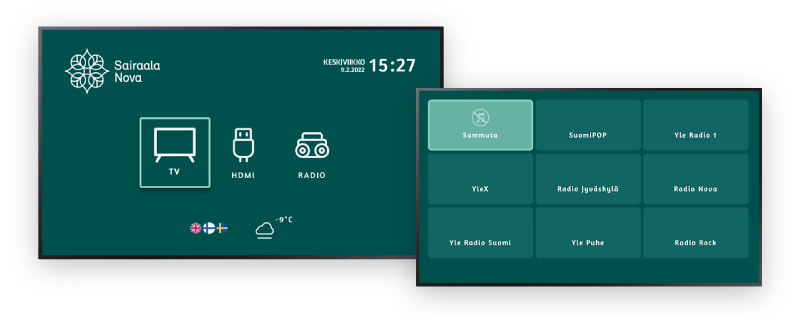 In addition to saving resources by empowering patients to engage themselves in their care, Hospital Nova also utilizes other parts of the toolset for employees available in the Smartroom Health solution.
The larger signage displays are also used to provide critical information in staff areas such as info on daily operations, work schedules, patient care diagrams, equipment maintenance, cleaning status for operating theaters and live Cardiotocography (CTG) data monitoring of patient vital signs (fetal heartbeat and the uterine contractions) in the maternity ward.
Smartroom Health Deliverables
The following components where delivered to Hospital Nova as part of the Smartroom Health platform:
Features & Integrations
Patient guidance in public areas
Call-ins in public areas including the ER
Information screens for daily operations, showing patient care diagrams and shift list
Information screens for work areas i.e. equipment maintenance etc.
Information screens for in-house customers and visitors; i.e. pharmacy and restaurant
4K HDMI to IPTV distribution of live CTG monitoring views from Medexa's Milou system for the maternity ward
Hardware
~230 patient TVs for information and entertainment
~270 digital signage displays for information and queuing
~300 doorway displays for call-ins and room bookings
~20 bedside display terminals in the Intensive Care Unit (ICU)
~30 monitoring displays for monitoring live CTG data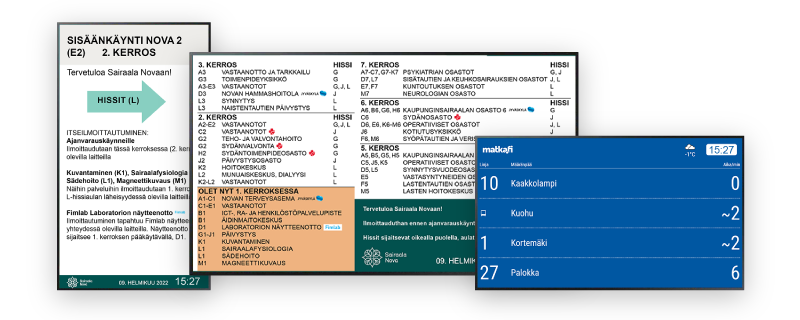 Project delivery
The project was a multi-year effort involving hardware & system installation, development work, network planning, training of the staff and post-installation support that is still ongoing.
Hibox engineers visited the Nova construction site already in 2018 to present the Smartroom platform and to understand The Central Finland Health Care District's challenges and needs. Development work started in 2020 and the hospital opened its doors late the same year.
In practice, Hibox provided both development resources and professional services as part of the system roll-out, all of which was done almost entirely remotely due to the COVID-19 pandemic. Throughout the project, a dedicated project manager from Hibox worked in close collaboration with Nova's representatives to ensure a smooth delivery process.
The result
A Centralized Solution for a Better Patient Experience and Increased Operational Efficiency
Through the use of Smartroom Health, Hospital Nova leaped from its old hospital environment into the digital age, resulting in a superior digital patient experience and an improved quality of patient care.
Thanks to Smartroom Health's integrability, vast array of features and ability to offer functionality for multiple use cases within the same system, Nova has been able to simplify healthcare processes in an otherwise complex ICT environment and divert from a fragmented systems model.
Hospital Nova can now, for example, automate routines and daily operations, allowing staff to focus on patient care and specialized tasks, while the advanced patient guidance solution allows the hospital to avoid employing people for wayfinding altogether.
The CTG monitoring solution is an example of where Smartroom Health is involved in mission-critical medical usage that has resulted in much more efficient processes compared to the hospital's old solution. The IPTV technology that the multiscreen system runs on, has also limited the amount of cabling in the facility, resulting in reduced costs and a faster deployment time.