Infection prevention has emerged as a new important theme for hotel and hospital technology. One of the main challenges is how to regain the trust among guests that hotels are safe places to stay, and how digital tools can facilitate that ambition. This concern is perhaps even stronger in care facilities, where some of the patients and visitors may have a weakened immune system. Due to the persistent Covid-19 pandemic, the same question remains relevant in any in-door environment where people meet face to face.
So the question is: How can digital tools help people avoid physical contact, improve hygiene and stay aware of infection threats? This blog is a collection of well-established ideas around solutions that already have proven effect.
Avoiding physical contact in public facilities
Pre-pandemic, the first contact point when someone stepped into a public facility like a hotel or hospital lobby, was the reception or service desk. As much as we appreciate a friendly welcome, it may not be the right approach in all situations.
Self-service kiosks
We've come to appreciate the freedom and hygiene that self-service kiosks can provide. Users can register and check in, view information, get wayfinding tips and other guidance, order services and even handle payments independently, without having to fin an available receptionist.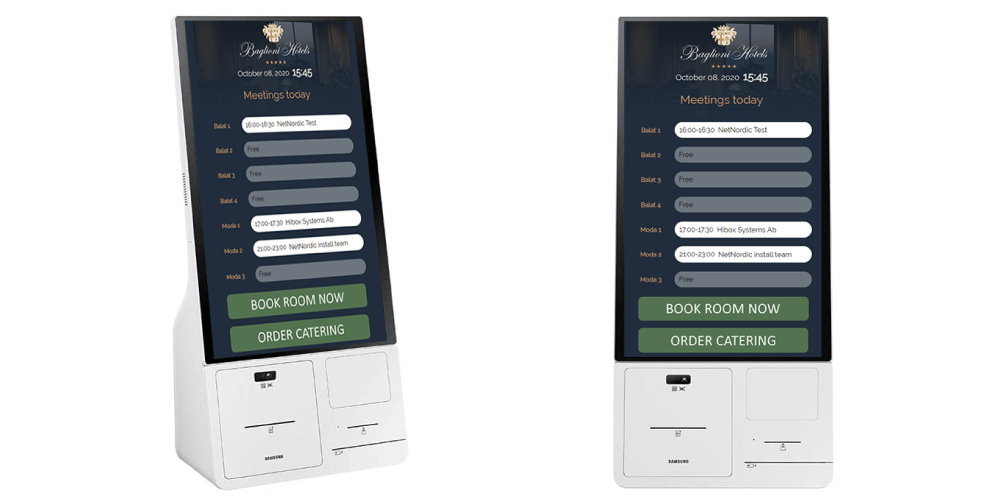 Young users tend to prefer self-service over face-to-face interaction, especially when dealing with personal data. There are now specialized self-service kiosk devices for this very purpose, including barcode scanners, receipt printers and even payment terminals. If the peripherals are unnecessary, similar functionality can also be achieved using signage screens with touch panels. And if we're worried about germs on the touch-screen, why not choose a kiosk with anti-bacterial and antiviral coating?
Mobile apps on end-user devices
Another way to empower users is to provide mobile apps for self-service.
Regardless of whether the apps are native Android or iOS apps or ubiquitously accessible webapps, providing useful functionality on the user's own device is a neat way to avoid physical interaction, cleaning of public touch surfaces and empower the user at the same time.
These apps can be integrated to lock systems, queuing systems, room automation, service ordering systems etc, providing comprehensive and personalized functionality on the user's own device.
For staff teams, specialized apps can be a useful augmentation or replacement for paper, pens and physical meetings. IT, maintenance and housekeeping teams can benefit from a unified and well integrated task management solution that allows them to share photos and comments, delegate tasks and optimize their workflow and performance based on feedback and reports. Even though such apps can run on their personal unmanaged work phones and tablets, we recommend connecting them to a device management solution to protect the data and reduce the risk of theft and abuse.
Improving in-room hygiene
Customers can be worried about the cleanliness and hygiene of the room during their stay. Everyone is aware that the linen is changed frequently, but what about germs between the buttons on the remote control? How many people have touched these lighting switches and cord telephone buttons before me? These are relevant questions when rebuilding the trust in the safety of temporary stays in hotels, hospitals and other care facilities.
The first off-the-shelf products to improve the in-room hygiene are washable remote controls. Remote controls with flat surfaces are easier to wipe properly. Also, specialized remote controls can have an anti-bacterial surface coating to further reduce the risk of infection.
To take it a step further; Tech-savvy users may appreciate a virtual remote control that allows them to control the in-room TV without even touching the physical remote control. Virtual remote controls typically allow pairing the guest's own device using an on-screen QR code. Make sure that the virtual remote control solution takes IT security into account, so there is no risk of controlling TVs in the wrong room or accessing the remote control APIs from other devices than the paired ones.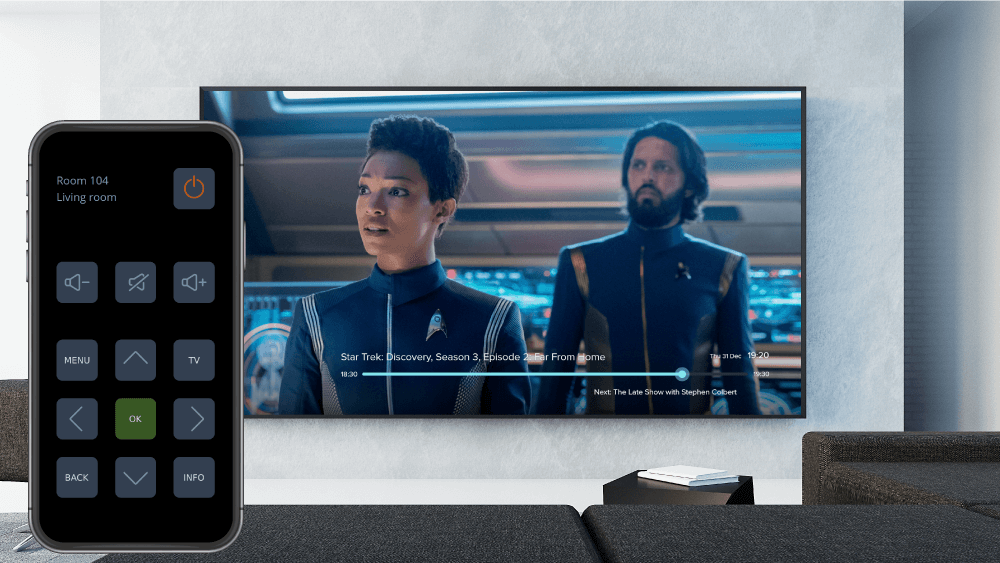 Any hard surface in the rooms, and public areas can be protected with anti-bacterial and anti-viral surface materials. There are already several manufacturers out there with surface materials with these preventive health properties, available either as transparent or coloured adhesive products.
Digital communication
Nowadays, there are many ways for customers to interact with the reception and other staff teams using digital tools instead of physical encounters. Video calls are more immersive and informative than old-fashioned cord phone calls. Also, users that are isolated for one reason or another can find immense joy in not only speaking but also seeing others over a video link.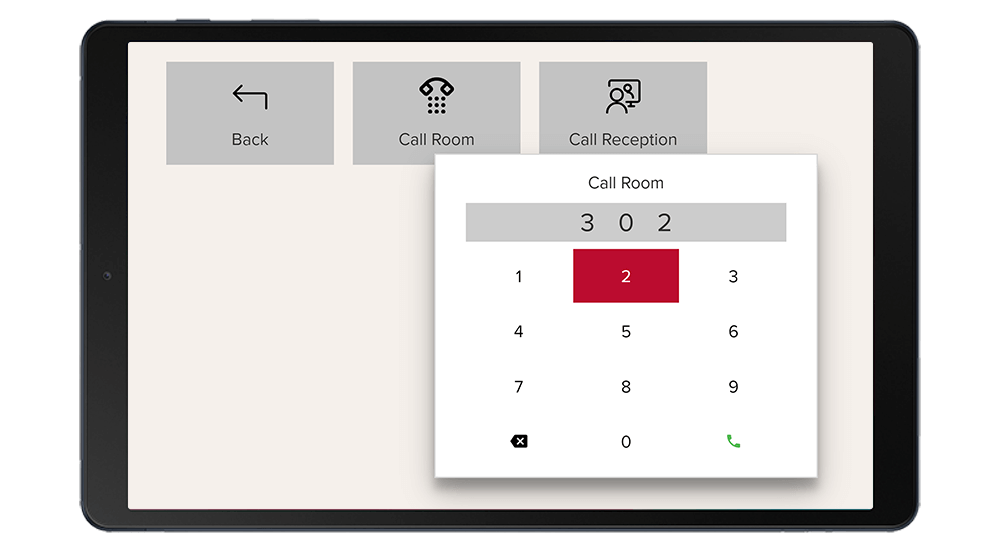 Thanks to the emergence of video call functionality on hospitality TVs and tablets, there is no longer a need for separate cord phones in the rooms.
Chatbots, instant messaging and live chat features also help to reduce the burden on customer-facing staff teams, while allowing the customer to stay safely in the room. Chatbots can be customized for any hospitality location and can learn to handle routine questions quite well.
Room service orders and requests for assistance can also be managed with integrations to point-of-sale (POS) systems and housekeeping systems in hotels, and nurse call systems in hospitals and other care facilities.
Raising the awareness of infection threats
A reliable and timely awareness of the current threat situation has been a crucial part of tackling the ongoing pandemic. Similarly, precise information helps visitors in hospitality and care facilities to make insightful decisions and actions. With the help of scheduled and looped information on public screens, digital signage can make a huge difference.
An additional benefit is that the health and safety communication can be combined with commercial messages and other important information, which guarantees that people pay attention to the other info too.
In-room equipment like TVs and tablets and wifi portals can also convey personal messages and pre-scheduled reminders about infection prevention. This type of messaging is likely to inspire more reactions than public messages on distant screens.
We also believe that artificial intelligence can play a role in raising awareness. For example, we've participated in a pilot project with live monitoring of people amounts in public spaces like restaurants. The AI solution analyzes video camera feeds from the entrance, calculates the occupancy of the space and provides a traffic-light-style prediction of the relative safety of the space to customers with TVs or tablets in the rooms.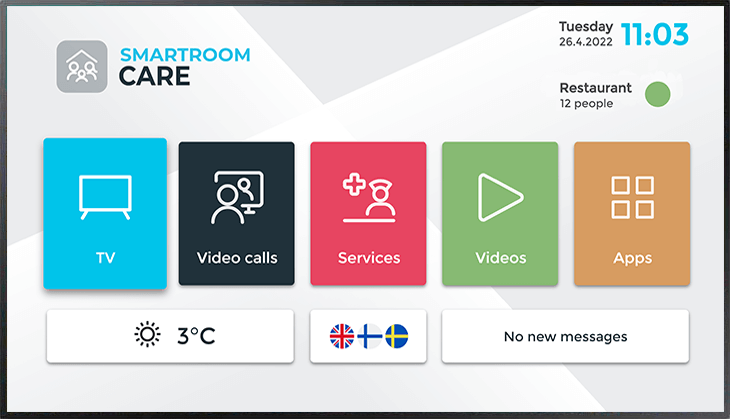 Conclusion
Technical solutions can help to relieve the burden of strained staff teams and provide real value in raising the awareness of infection threats, empowering customers to act independently, helping them make safe decisions and communicate despite physical isolation.