Pay TV delivery is largely dependent on the unique setting of your pay TV service, influenced by aspects such as your needs, market and end users. A delivery model that fits your competitors' service, doesn't necessarily fit yours. It can be tricky to do right, both from a technical and commercial perspective.
If you are running a content on-demand service that needs to be distributed over large geographical areas, then cloud delivery is the logical choice. If you are a regional provider with a Live TV service on the other hand, then you don't need the advantages (and disadvantages) of the cloud and you are probably better off with an in-house delivery model.
As a global vendor of pay TV solutions, we often come across unrealistic expectations of pay TV delivery, which is why we created this definitive guide to help you develop a customized model that best fits your situation.
In this guide you will learn about the main consideration points for pay TV delivery:
We will explain the different delivery models of pay TV and the main considerations; distribution, content and pricing that you'll need to be aware of when building or expanding your pay TV service.
Let's start by defining what pay TV delivery is and the available delivery models. You can also skip the details and jump right into the summary on which pay tv delivery model you should choose.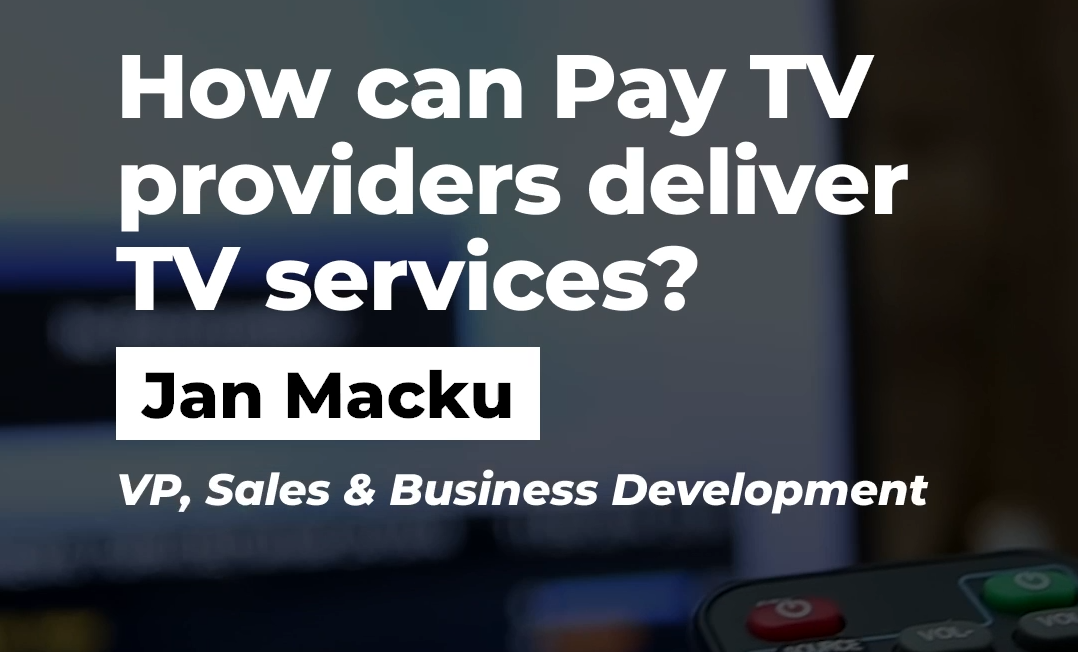 What is Pay TV Delivery (Delivery Models)?
Pay TV delivery is the process of distributing a pay TV service and its content to end users. It involves everything that makes up your service, including content, Content Delivery Networks (CDNs), hardware, storage, bandwidth etc.
Delivery of pay TV can often be very customized, as every service is unique in its audience, content and market. But, there are pre-defined delivery models you should consider.
Choosing the right model according to your unique business needs is key for making your pay TV service a success.
Pay TV services with a large geographical audience will benefit from cloud delivery, while services with a smaller (more regional) audience will be better off without enlisting the services of a large (and expensive) cloud provider.
But in reality, the choice of model is slightly more complex. We've narrowed it down to three main models which are used (or available) on the market: the SolaaS model, the in-house model and the hybrid CDN model.
Solution as a Service (SolaaS) Model: A Complete Cloud Solution
The Solution as a Service model, or SolaaS for short, is a complete cloud solution, meaning that the entire system is run in the cloud provider's environment. This includes, among other things, rented hardware for content storage, transcoding, CDNs and capacity/bandwidth, all of which is provided by the cloud provider.
In practice, you subscribe to the entire technical setup, (including the necessary capacity and bandwidth technologies) for a monthly fee from either a global cloud provider such as Cloudflare, Akamai, Azure or Amazon Web Services, or from a regional provider.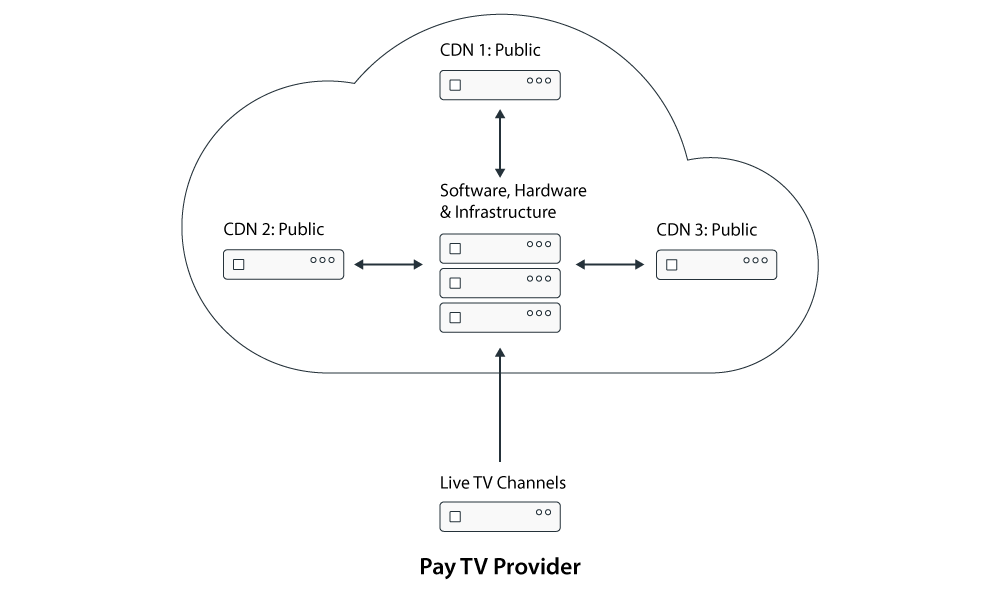 The main benefit of a cloud environment is that it enables any video service to deliver different content such as live TV, live streams and on-demand content to multiple end user devices (TVs, set-top-boxes, mobile phones etc.) over very large territories and without geographical barriers, thanks to public CDNs.
This makes the SolaaS model very suitable for international pay TV delivery, but providers in large individual countries such as India, China, Russia or Brazil also stand to gain from the cloud. They need very good interconnection networks to deliver TV services to end users within their own countries.
In some regions, for example in Africa, global cloud providers are in fact the only option to secure a good interconnection network on a regional level due to lack of fiber infrastructure (although the situation is improving).
Due to the large territorial coverage of a pay TV solution running in the cloud, you are able to collect a lot of end user data that can inform your content management, improve user experiences and OTT personalization, which in turn improves the quality of your pay TV service and your bottom line. The cloud providers also generate data for you that can otherwise be costly to acquire on your own.
The initial investment cost of hardware with the SolaaS model is almost zero.
This fact, the ability to deliver globally, the notion of "any device, anywhere" and the complete nature of the cloud providers' offering, make cloud technology attractive for many pay TV providers.
However, the running costs (OPEX) for a SolaaS model are considerable, and as such cloud-based pay TV delivery only makes sense if you have a large global audience and a deep understanding of your end users' behavior to calculate margins, which we will look at in more detail in the pricing section.
Additionally, the delivery of live TV channels over the cloud isn't entirely ready for "prime-time" yet, as we will learn in the content section.
The In-house Model: The Locally Managed Solution
The in-house model (or private model) is the go-to solution for regional or local pay TV providers that don't require the complexity and delivery capability of a cloud solution. It's the "traditional" pay TV model that most regional operators still deploy today.
If we compare in-house to cloud, it doesn't make sense to use a public cloud-based environment if you are able to manage a local/regional rented data network and increase capacity as needed for growth instead.
If you for some reason would opt for cloud delivery on a smaller local scale, you would effectively pay twice: once for the cloud solution itself and a second time to upgrade your network to handle the traffic from the cloud. Additionally, the traffic would most likely go overseas to a datacenter and back (which increases delivery time to end users).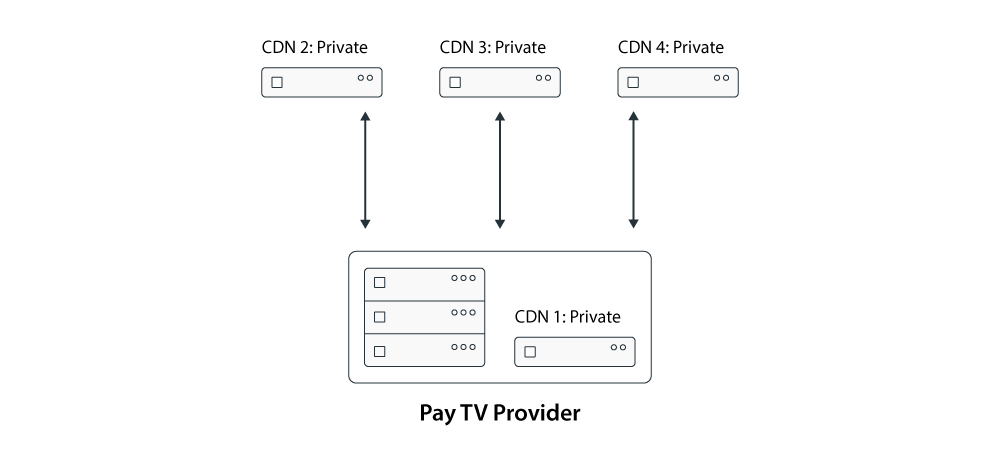 The in-house model requires you to have (or rent) a data center for your backend and hardware, combined with private CDNs across your geographical area of operation. All of which can be connected together into one ecosystem and eventually connected to a national Internet Exchange point (IXP).
This model doesn't require a lot of third-party services for hosting content or supplying hardware (hence the name "in-house"), but you would still need access to a data or broadband network in order to distribute the service.
If you are a pay TV provider with your own data network (fixed and/or mobile), you can connect the backend with CDNs directly to the network. This way, the traffic between backend, CDN and end user device is just intranet, so no extra traffic costs to external operators.
If you don not have your own data network where you operate, you have to rent one with capacity to fit your needs.
The Hybrid Content Delivery Network (CDN) Model: A Partial Cloud Solution
The third model is a sort of combination of the in-house model and the SolaaS model; the Hybrid CDN model. Through this model you can combine the use of private CDNs with public CDNs from the cloud.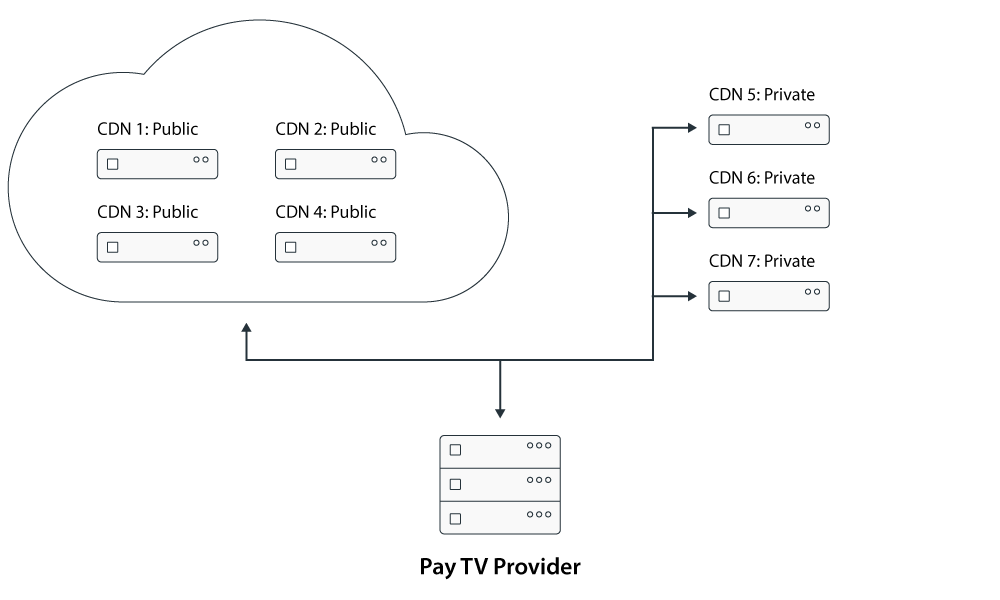 This model is still rare on the market, but might make sense if you e.g. have reached the maximum capacity of your own data network, or you want to expand your services out of your current region/country. Then, connecting your service to public CDNs in the cloud is the fastest and easiest way to expand.
Another benefit is that you have end user data from your existing pay TV service, so you are able to accurately anticipate how much traffic you will need and what your monthly cloud service costs are going to be. This is a luxury you don't have when starting a new pay TV service, so businesswise this is a very good approach as it minimizes risk.
In addition to these three delivery models that define distribution, there are some other important elements to consider that should inform your choice of pay TV delivery model. Most importantly: content and pricing.
Let's take a closer look at those.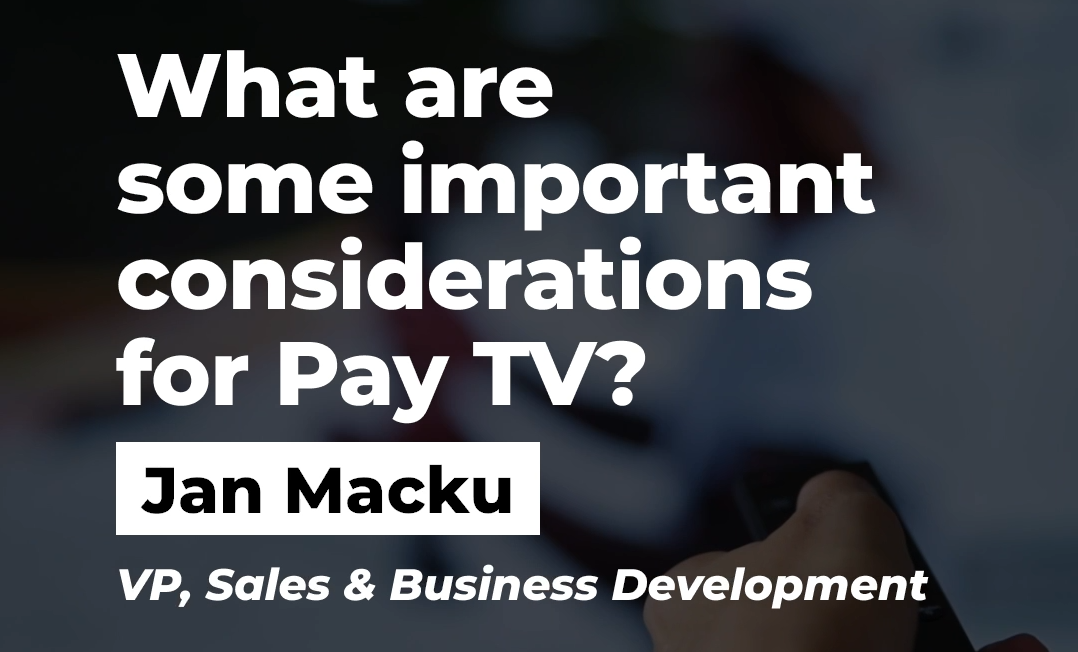 How Does Content Affect Pay TV Delivery?
Content plays a key role in the technical and financial setup of your pay TV service, and consequently in the choice of delivery model. Some technologies are better suited for some types of content, while other technologies are better suited for other types of content.
There are essentially two types of pay TV content:
Non-linear content (video-on-demand, over-the-top, catch-up TV)
Linear TV (live TV channels and live streams)
Distribution of non-linear content is much easier than distribution of linear TV or a combination of non-linear and linear. This is due to the complexity of live TV delivery.
So for example OTT services like Netflix or HBO Max, that only provide VOD content streaming, don't require an equally complex setup as a pay TV provider that provides live TV channels. In fact, a good measurement of the quality of your pay TV solution is the delivery time from a live broadcast/stream source, such as a sports event, to the end user device.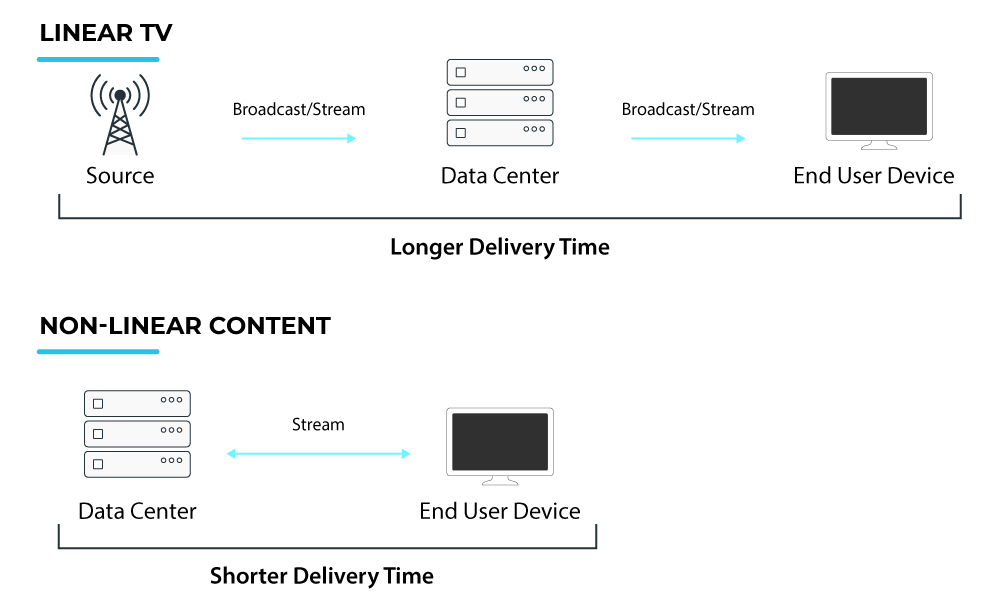 Linear (live) vs non-linear (on-demand) content is a crucial differentiator that has a significant effect on which delivery model you should choose. As touched upon earlier, delivering live content over the cloud isn't optimal, at least not when compared to in-house delivery.
Live Content Delivery Through the SolaaS Model (Cloud)
When distributing through the cloud, the live channels must first be delivered to the cloud provider and then continuously transcoded to the appropriate format in multiple profiles (qualities) to support all devices together with an encryption and stored for timeshift and catch-up functionality. EPG metadata must also be ingested regularly.
This entire process needs to be managed within a few seconds and delivered to the end user device, and the fact that the cloud provider's data center most likely is situated in a completely different geographical location than yours, also increases your delivery time.
Providing linear content through the cloud also becomes more costly than only providing content on-demand due to the additional hardware and software complexity. On top of that, Live content creates more demands on hardware performance and components, especially for live transcoding, storage and the ability to encrypt the content.
However, live content isn't a complete no-go for cloud-based services. It's doable if your business requirements demand it, if you need large scale delivery for example. But, the technology isn't quite there yet and that is why most services delivered through a SolaaS model focus on content on-demand.
Live Content Delivery Through the In-house and Hybrid Models
With these models, you have control of the entire back-end. Live and on-demand content is processed locally to the private CDNs, and eventually to public CDNs in case you apply the Hybrid CDN model.
CDNs with access to a national IXP are an advantage because it connects the pay TV service to all serious ISPs within a region, allowing for better distribution, which in turn leads to a better quality of service (QoS) and shorter delivery times.
Other Considerations for Delivering Pay TV Content
The size of video streams are generally very big and are becoming even bigger as we move towards better resolutions (FHD and 4K). Although video compression technology by transcoding and codec providers has improved, data consumption for video streams is still very high.
Streaming requires a lot of bandwidth and capacity mainly due to unicast technology, which delivers one stream connection per device. Which means that traffic of thousands of simultaneous connections result in tens of gigabytes per second.
Regardless of whether you deliver over a private fiber network with internet access, through a public cloud provider, or through a combination of the two, you still have to calculate the capacity of your data network in advance. The capacity is affected by no. of concurrent customers, provided services, data consumption, required speed etc.
Another requirement is that you have to secure content rights from the content provider in advance. Regardless of whether the content is going to be delivered to a target audience within a local market or to an international audience in selected countries. All content must also be encrypted by a certified DRM unless agreed otherwise with the content provider.
Now that we've defined what the main delivery models are and what role content plays in pay TV delivery, let's get to what we've all been waiting for.. pricing.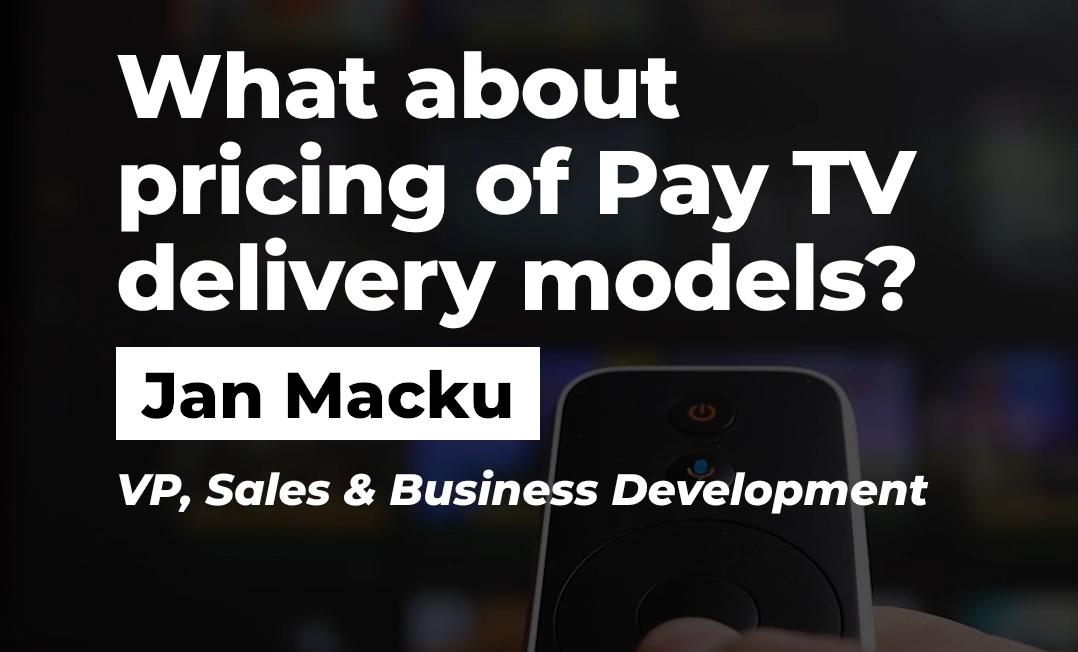 Pricing of Pay TV Delivery
Your choice of delivery model will obviously affect your costs, and as in most cases, cost is a decisive factor for your investment. Let's have a closer look at pricing of the different delivery models.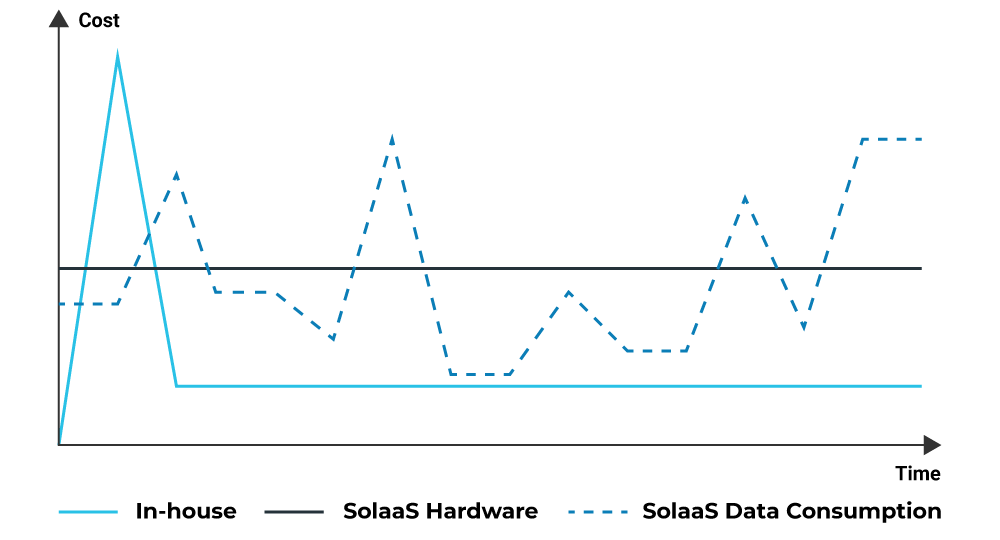 Pricing for cloud services (OPEX-based)
Usually, public cloud providers charge per traffic per minute (data consumption from end users) on a monthly basis. They also charge for stored content, transcoding usage per minute and for the required technical setup.
Therefore, if you are starting a new pay TV service with a cloud-based model and you don't know how much data your end users will consume, estimating your cloud service costs in advance becomes very difficult. Which in turn makes it difficult to develop your overall business plan and to tailor your subscription fees for end users.
Cloud pricing can also differ between geographical regions per stored TB or per Gbps. In general, Europe and North America have the lowest pricing for cloud services, while Africa is the most expensive.
Pricing for the in-house model cloud services (CAPEX-based)
Calculating the cost of this model depends mainly on the amount of concurrent end users, amount of channels and the quality profiles for each channel, size of storage for catch-up, VOD hours and nPVR.
This information is also important to be able to design data networks for such a solution.
With the in-house model, you don't pay the cost per data consumption of each user, instead, you pay a fixed fee for capacity and speed of data links per month.
This makes it easier to calculate the number of concurrent users. So, the cost of the whole solution becomes significantly cheaper in comparison to the SolaaS model, but the initial (CAPEX) investment for hardware and software is higher.
In turn, pricing for the Hybrid model is very individual as you are mixing the two previous models and it's also very dependent on the region you are operating in.
Should You Choose Cloud, In-house or Hybrid Pay TV Delivery?
So, which model should you choose? Let's summarize the delivery models so you can make an educated decision for your service.
The table below gives an overview of the main consideration points for pay TV delivery and how those relate to each delivery model.
The type of content, your area of distribution and pricing are the main considerations when choosing a pay TV delivery model.

| | | | | | |
| --- | --- | --- | --- | --- | --- |
| SolaaS | Suboptimal | Optimal | Optimal | Suboptimal | Opex |
| In-house | Optimal | Optimal | Suboptimal | Optimal | Capex |
| Hybrid | Optimal | Optimal | Optimal | Suboptimal | Opex/Capex |
Choose Cloud for Global Content On-demand Services
Choose the cloud (SolaaS model) if you're planning a content on-demand service over a large territory. This model also fits for services that provide content on-demand in combination with scheduled live streams, such as sport events.
Benefits of the SolaaS model for pay TV delivery:
Great for on-demand services (VOD, OTT)
Ability to deliver over large geographical areas
Almost zero responsibility for maintenance and tech support
Low CAPEX investment
Redundancy
However, cloud technology is only an economically viable option for pay TV if both the geographical territory of your target audience and the audience itself is relatively large, because you will need a lot of end users to cover your high OPEX costs.
You will also need to calculate your end user subscription fees in advance in order to estimate your margins.
So, you should make sure the service (with provided content) is profitable according to a minimum volume of end users, that the content is attractive enough to generate subscribers and that the target audience is financially strong enough to cover the subscription fees.
With all of that covered and you plan to deliver to a large territory, it's probably a safe bet for your pay TV service to be fully offered from a cloud environment through a SolaaS model.
Choose In-house for Regional Live TV
Choose the in-house model if you are planning a more traditional pay TV service that includes live TV content and content on-demand (either VOD or any other OTT services).
It's the best solution to provide complete pay TV services within a region or country. The entire technical setup and cost is under your control.
Benefits of the in-house model for pay TV delivery:
The platform is based locally and under your full control and management
Fully scalable solution according to your operation size with fixed monthly cost
All pay TV services are delivered from your premises
No costs for traffic per minute per end user(s)
Knowledge of technology
Choose Hybrid for Expanding a Pay TV Service
Choose the hybrid model if you have an existing pay TV setup as an in-house model and you would like to expand your pay TV service to other regions within your country or abroad where you are not able to control the technical setup, then public CDNs in combination with your existing solution is an option to consider.
Benefits of the Hybrid delivery model:
Expansion of your pay TV service outside of your territory
Able to reach more end users and generate more revenue
Possible usage as a load balancer
CDN backup system
A hybrid setup is always an individual agreement between the pay TV provider, tech vendor and the cloud provider.
We hope this in-depth guide has been useful for understanding the different pay TV delivery models, and that it will help you identify which model is best for your service.
If you think there is something we missed, or you are wondering which of these models would suit you best, we would gladly discuss your unique pay TV solution. Feel free to get in touch.